The Makedonians play the traditional music of the Balkans and Near East, inflected with a hint of American jazz.
The Maks are not so much a band as a community of musicians. Based in Tacoma, Washington, members travel from as far away as Portland, Oregon and Bellingham, Washington to join in the fun. Their performances typically include eight musicians, sometimes more. Sometimes many more.
Instruments can include any combination of the klarino, flutes and saxophones, the recorder, gajde, oboe, zourna, tambura, bouzouki, baglama, guitar, accordion, fiddle, viola, cello, mandolin, bass violin, tapan, dumbek, tambourine, and zills. They also make excellent use of the many fine singing voices at their disposal, with spine-tingling harmonies sung in the traditional languages.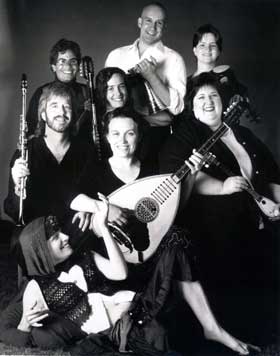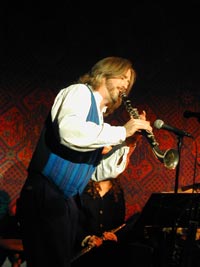 The College recital that never ended
The Maks formed in 1983 when Diz Carroll returned from a once in a lifetime opportunity to study with 76 year old gypsy zourná player Mitsos Hinsos in Northern Greece. On his return to Western Washington University in Bellingham, he infected several of friends with an enthusiasm for the music he had been immersed in, and they quickly formed a group with the goal of performing a recital. The recital went over so well, and the participants had such a ball, they decided to keep going. Now more than 20 years later, they have transcribed over 200 traditional folk songs, and more than 100 area musicians have had at least a brief stint in the ensemble.